DALAT CANYONING TOUR
Do you want to be a super man, spider man or Micheal Jackson.....???
One-day trip, south of Da Lat, where you will navigate your way through a canyon and learn how to use the ropes. Water Abseiling / Canyoning is one of the most modern adventure sports that allow you to discover the wonders and mysteries of nature in its purest form. Trekking, Abseiling, jumping and swimming, you will discover fantastic canyons and face the challenges of incredible gorges. During this unique journey of unforgettable experiences you will be accompanied by Canyoning professionals and expert guides.
We will pick you up at your hotel and then depart to Datanla waterfall.
Arrive to the practical abseiling point, 45 minutes to learn how to use the equipments , you'll learn the basics of knot tying, harness wearing, hardware, and proper rappelling technique. After the guides are satisfied that you've got it down, you'll head down your first rappel!
Do the firsy dry abseil with the rappel of 18 high meters.
Free swimming at the waterfall.
Ziplining with 50m long (full option)
Join a 5m water sliding down the waterfall.

Picnic lunch (bread, chesses, fruits, vegetables, jam, water, etc…)

Get the real canyoning with the 25 high meters waterfall.

(full option)

Enjoy a 11m jump into water.
Do the last and most difficult rappel (16 high meters) is affectionately known as The Washing Machine.
About 20 minutes of trekking uphill to the van, back to your hotel.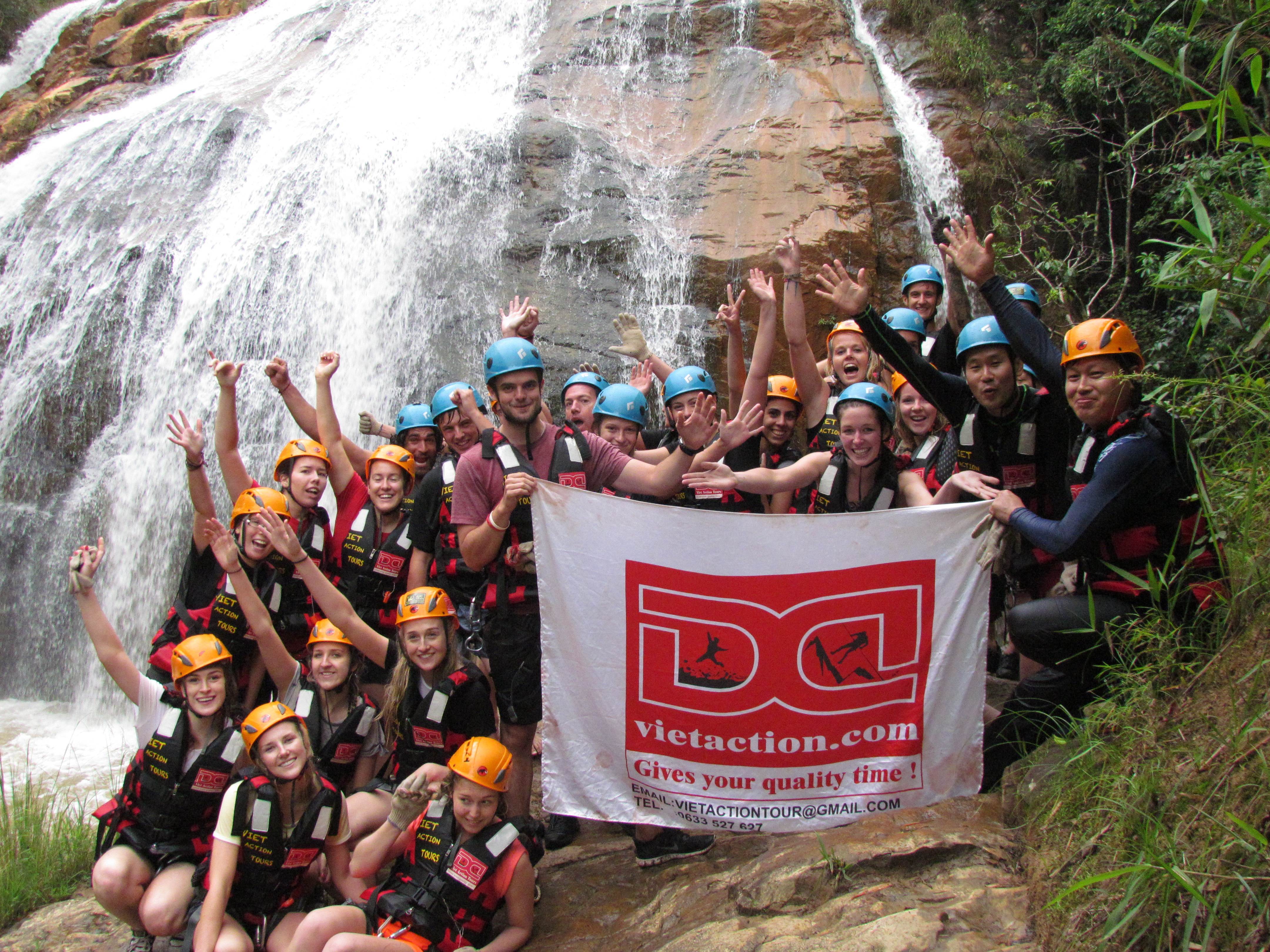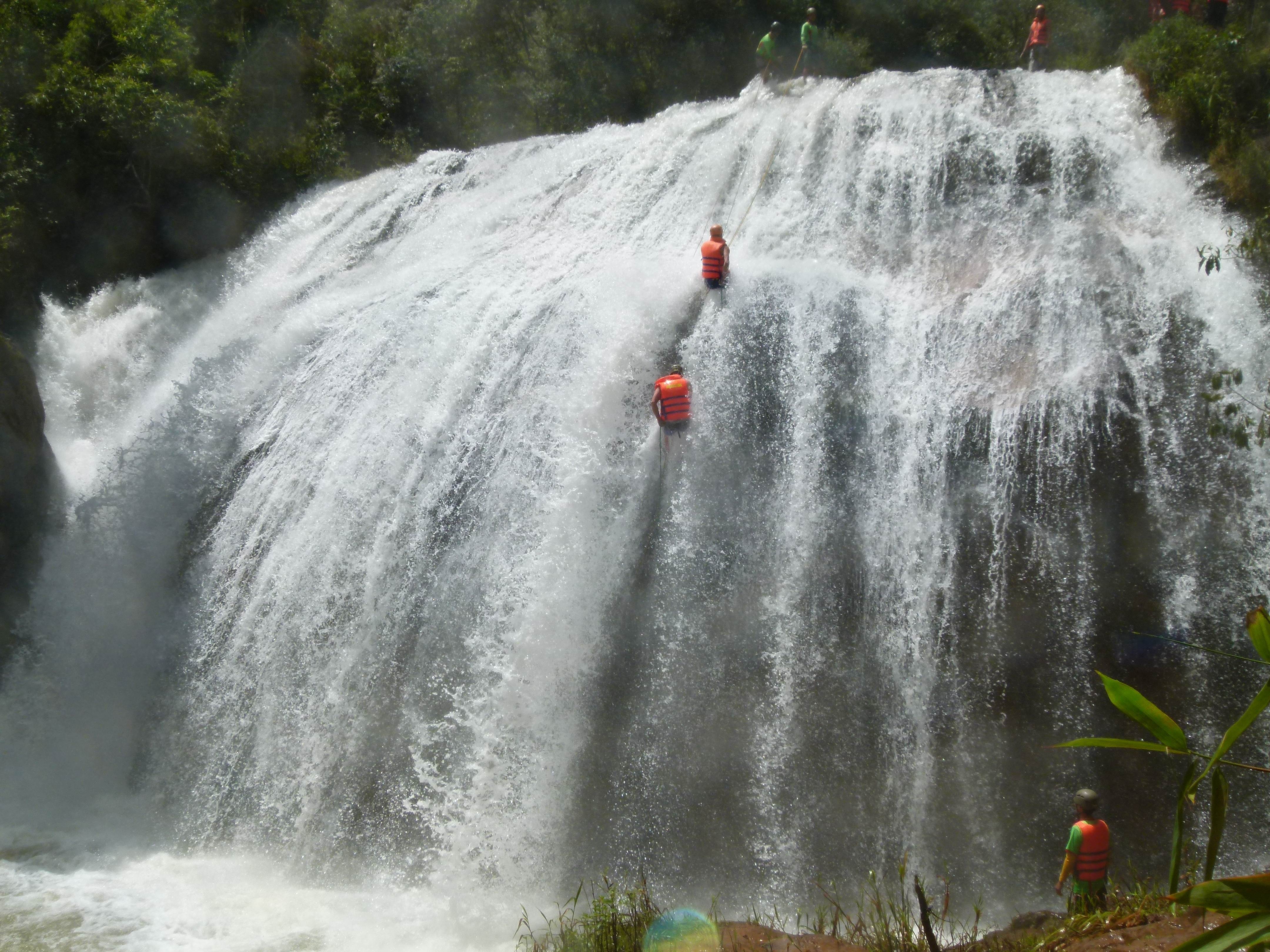 Tour Cost :
===> $50 for Mini option (without zipling and 25m abseiling down to waterfall)
Start at: 9.00 everyday. Maximum 10 people/group
===> $72 for Full option (with zipling and 25m abseiling down to waterfall)
4 slots/day start at Datanla waterfall at: 8.00, 8.30, 9.00 and 9.30 everyday.
Maximum 12 people/group
CANYONING TOUR INFORMATION
Depart From : We'll pick you up at your hotel
End At : We'll drop you off at your hotel
Departure Days: Daily
Activities: Hiking, Rappelling, Water sliding, Swimming.
Trekking Grade: 5 – Moderate
Canyoning Grade:3 - 7 ~ Easy to Moderate
Transportation: Van or car to trailhead, depending on group size
Meals: Fruit snack, purified drinking water, picnic lunch (Please note one day in advance if you have special dietary requirements)
What to Bring: Hat, sunscreen, clothes for swimming, repellent, camera, sport sandals/snickers /water shoes
What's Included: English speaking professionally trained guide, lunch, transport, all necessary forest and tourist permits, first aid kit,and high-quality rappelling gears (helmet, harness, life jacket, carabiner & figure 8, wetsuit) .
We are happy to show you our equipment, which meets the highest standards for testing and safety. (Locking carabiners, European ropes, and professional rigging gear)
What's Not: Personal major medical including evacuation insurance coverage is recommended. Tips for our guides are always appreciated.
For further information - Please contact with us:
[T]: 0263.3527.627
[M]: 0918.924.302
Viet Action Tours - GIVES QUALITY TIME !